Scranton Seahorse Inn
Healthy & Simple Granola Recipe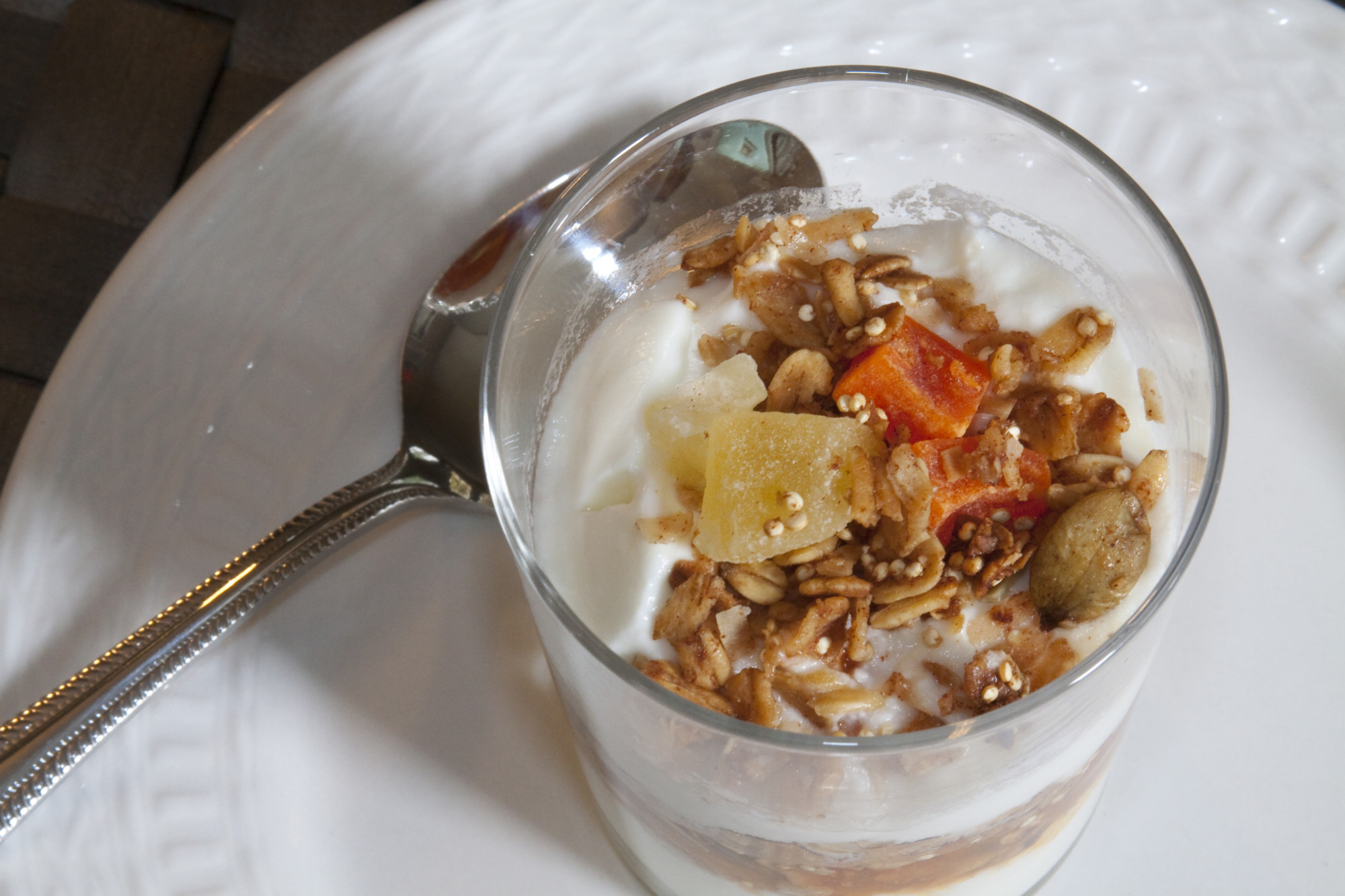 This recipe is a variation of my original granola recipe.  I was asked by a guest to create one that used less sugar and syrup.  After a few experiments this is the end result.   My guest and I are very happy with this version.   I like that the amount of sweeteners was reduced by more than 70% and the flavor was not only not compromised but improved.   You can eliminate the 3T of brown sugar completely when mixing the dry goods.   Make this once and you'll stop buying boxed sweet cereal forever!
In a microwave or on a stovetop gently heat the following ingredients until the butter is melted.
¾ cup high quality Extra Virgin Olive Oil
¼ cup of your favorite local honey or local maple syrup
2 T unsalted butter
½ t almond extract OR pure vanilla extract
In a large mixing bowl mix together the following ingredients:
4 cups rolled oats
½ cup Quinoa
¾ cup slivered almonds
¾ cup sliced almonds
¾ cup raw pepitas
½ cup shredded coconut
1T kosher salt
1t cinnamon
½t freshly ground nutmeg
3T brown sugar (optional)
Stir in the warmed olive oil mixture and oats mixture with a rubber spatula.    Spread evenly on a rimmed sheet pan lined with parchment paper or silpat and cook in a 350 degree oven for 30-40 minutes until browned stirring every 10 minutes.   Cool completely.
Once cooled and just before storing, stir granola with your hands, breaking up any of the mixture that may be stuck together.  Stir in 1 cup of your favorite dried fruit. Pitted dates, cranberries, golden raisins are great.   Store in an air tight container in a refridgerator for up to two weeks.
A few notes about ingredients and substitutions.
Great olive oil is key. We are lucky to have Shoreline Vine here in Madison and I use their Picual EVOO for this recipe because it's naturally sweet and appropriately earthy for this recipe.   I personally don't recommend flavored or infused olive oil for your granola but this is about you and your taste buds.   Experiment! If you don't have a store like Shoreline Vine near you (they do ship by the way!) then find a high quality extra virgin olive oil in your supermarket
If you don't like almonds substitute your favorite nuts in equal quantities.
When springtime arrives I used whatever fruit is local & fresh in place of dried fruits. If you use fresh fruit just wash and chop and add to your granola just before serving with yogurt or milk.
I serve this granola frequently and this is a fairly large batch.   You can easily cut this recipe in half by dividing all ingredients by 2.