Friday Night Dinner Menu – March 24th
[caption id="attachment_2015" align="alignleft" width="225"]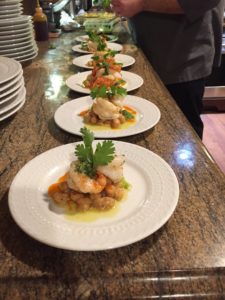 The shrimp and chorizo appetizer from last week's dinner...[/caption]
Friday Night Dinners with Chef Paul Barron at The Scranton Seahorse Inn
For this Friday during Lent Chef Paul Barron & I have a great menu planned.  This is our first dinner for spring and we sure hope it brings you out of hibernation.  Please be sure to call 
203.245.0550
 to reserve your seat at the table early.  We welcome groups and individuals alike.   Our menu can be altered to accommodate vegetarian diets and other restrictions. Dinner is $65 per person (no over night stay required).   OR you can chose: The Friday Night Dinner Package  $250 or $300 (based on room selection).  The package includes dinner for 2, your overnight stay, a full breakfast in the morning and late checkout. Tax & 18% Gratuity are additional and are added to the final bill. Dinner starts each week at 7:00pm and is a BYOB event.
Friday Night Dinner Menu for March 24th, 2017
Welsh Rarebit 
Stella Artois / Keens Aged Cheddar
Fresh Pea Soup
Spring Onion Custard /Crispy Shallots
Atlantic Cod
Braised Fennel / Tomato Confit / Black Olives
 Cheesecake
Beltane Farms Goat Cheese / Hazelnut Brittle
Chef Paul Barron
Pastry Chef Michael Hafford
Friday Night Dinner Menu – February 24th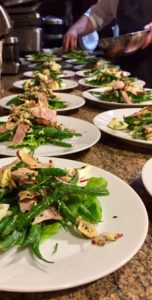 We're having great fun with our Friday night dinners here at Scranton Seahorse Inn.   Please be sure to call
203.245.0550
and reserve your seat at the table early. Dinner is $65 per person.  Or, Friday Night Dinner Package  $250 or $300 (based on room selection).  Includes dinner for 2, overnight stay, full breakfast and late checkout. Tax & Gratuity are additional Dinners start at 7:00pm and are BYOB.   Food allergies and other restrictions can be accommodated.
Friday Night Dinner Menu
February 24, 2017
Roasted Shrimp
chorizo / chickpeas / smoked paprika / cilantro-garlic pesto
Endive & Lentil Salad
orange / walnuts / goat cheese
Duck Breast
potato dauphinoise / carmelized chicory / port Sauce
Cherry Crisp
toasted oats / pecans / coconut
Friday Night Dinner Packages Every Week This Winter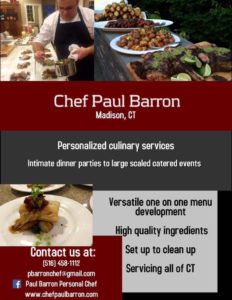 Every Friday night at 7:00 this winter we will feature a 4 course meal prepared by local favorite
Chef Paul Barron
. Chef Paul will bring his skills to our kitchen and prepare delicious meals every Friday night. The menu will change frequently & will be sure to impress your taste buds and warm your winter blues. You may want to come back every Friday this winter. Menus will be published to our website, blog, and Facebook pages as they are determined. Our Valentine's weekend menu is listed below.
Our Friday Night Dinner Packages are $250 (most guest rooms) or $300 (Madison Getaway & Town View). Price includes 4 course dinner, full breakfast on Saturday, a late noon check out. Taxes and gratuity are additional. All Friday night dinners are BYOB.
If you have friends in town and would like to invite them to be your guest the cost for just the meal is $65. Call Michael at the inn at 203.245.0550 with questions or to make reservations. See you at the inn!
Friday February 10th & 17th
lobster bisque
♥
french green bean salad
country ham . toasted almonds . boiled egg . lemon vinaigrette
♥
braised beef short rib
semolina gnocchi . carmelized cipolini onions . snow peas . red wine jus
♥
chocolate pots de crème
bittersweet chocolate . chocolate hazelnut tuille . whipped cream
Chef Paul Barron
Pastry Chef Michael Hafford
Couples Getaway Package
Experts say that active adults and parents need set aside one night a month to get away.   They call it a "date night".   Household chores, kids sporting events, birthday parties, and endless other activites keep that from happening on most weekends.  The Scranton Seahorse Inn has put together an all inclusive package for just $300 that will allow friends and lovers to escape in the middle of the week without the hassle of planes, trains, or security check points.    

A one hour massage for each of you by our Licensed Massage Therapist Bob McCandlish is just one of the highlights of your getaway.   Also included is an early noon time check in into a standard queen room, a bottle of wine,  and a full breakfast in the morning. You'll love our guest rooms.   All include a private bath, fluffy comfy robes, deluxe bath amenities, free WiFi and a TV with DVD player (and hundreds of movies in our DVD library for you to borrow!).     We can arrange for dinner reservations or you can stay in, enjoy your wine, order a cheese plate and simply escape from the daily hustle and bustle and relax..... Sit down with your calendars, find a good night for a date and call Scranton Seahorse Inn to schedule your peaceful getaway package.
The Madison Dinner Date
This all inclusive 2 night package starts at $500 Treat your special date to some old fashioned romance, Madison style. The Scranton Seahorse Inn brings back the perfect first date with this package - and it's all within steps from our front door. A bouquet of flowers await you and your date when you check in to one of our deluxe guest rooms. Relax in your room before dinner at Elizabeth's (we'll give you a $50.oo gift certificate to get you started!).   Stroll back down the street and to use your tickets to take in a movie at the classic Madison Arts Cinema. Simple, old fashioned, & elegant! A gourmet breakfast is served each day of your stay.
Book this package with your Room Reservation
Cocktails and Tarot Cards
From only $340 per room based on double occupancy This is a great night away for a bunch of friends or even a girl's night out. Come spend an evening where you will meet our favorite celebrity tarot card reader Leslie Singer.  Sit with your friends by candlelight sipping martinis and drawing cards while Leslie tells you their special meaning.  You then have the option to have a 30 minute private reading or simply retreat to the parlor and sit by the fire with your friends with some refreshing martinis and light snacks.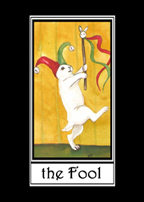 Tarot reader and psychic Leslie Singer is a life long student of the famous Frank Andrews.  Leslie does not tell fortunes nor does she speak ethereally.  She offers real time guidance for our everyday dilemmas allowing us to navigate our world with peace of mind.
Our all inclusive package includes the group activities (private reading is extra), 2 martinis per guest, snacks, and a full breakfast on Sunday. Gather a bunch of friends and make this an outing never to forget.
Book this package with your Room Reservation
Oh Baby! Babymoon Getaway
One night all inclusive package for just $490 This is perfect for mom and dad's to be that are looking for some pampering and relaxation before midnight feedings and sleep deprivation become the norm.   This is the pre-baby vacation that all expectant parents should indulge in.   Our very special package includes:
Deluxe Accommodations in either our Madison Getaway or Town View guest room. 
Two massages!   1 60 minute Maternity Massage for mom and  1 60 minute Anti-Stress Massage for her partner.
"Craving Card" - Mommy-to-be will receive a personal delivery of craving items delivered to her room.
$50 gift certficate for Elizabeth's Cafe - just a 2 minute walk from our front door.
Bottle of Sparkling Cider
A special Seahorse Inn baby gift
Make this a two night get-away for just an additional $189 Please call the inn at 203.245.0550 to make reservations and so that we may make arrangements for your massage appointments and dinner reservations.   Note:  A two night minimum is required on weekends during our peak season May - October.
Book this package with your Room Reservation
Chocolate Lovers Package
One night package for two starts at $170 This one night getaway is for the lovestruck and chocolate lovers alike and is sure to please everyone. This delicious package includes a one night stay in one of our romantic guest rooms where a handful of chocolate surprises await you. Here's what you can expect: a variety of house made chocolate truffles and gourmet chocolate bars; a gourmet cheese plate that includes a variety of cheeses including one of our favorite cheeses - Westfield Farms CHOCOLATE Goat; and fresh strawberries. The chocolate doesn't stop there! Enjoy some chocolate specialties during breakfast in the morning.
Book this package with your Room Reservation