GIFT CERTIFICATES
THE PERFECT GIFT!!
Still contemplating what to buy for that special someone on your list?   Scranton Seahorse Inn gift certificates will make that special friend, parent, sibling, teacher, or colleague very happy!  Gift certificates can be purchased in any denomination and never expire.  Madison Connecticut and the shoreline is a perfect place to visit any time of year so your gift will be appreciated no matter when it's used.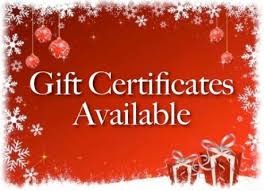 Here's a bonus!!  When you purchase a gift certificate of $200 or more you'll receive an additional $25 gift certificate at no charge for yourself to use at another time.  Or, you can give it as another gift or use it as a stocking stuffer or grab bag gift.
We are happy to email you your gift certificate(s) or we can put one in the mail on the same day with our brochure.
Don't delay call today at 203.245.0550 and scratch another name (or two!) off your shopping list.  Gift certificates will be sold until December 24th.
Hoping to see you at the inn soon!