When you live in a part of the country that doesn't harvest fresh fruits and berries you sometimes need to come up with recipes that don't rely on those ingredients.   Of course you can walk into any supermarket any day and find blueberries and strawberries.  But honestly once you've spoiled yourself with locally grown and picked berries you're bound to bedisappointed with the results.   So in places like coastal Connecticut where I'm from it's good to have some recipes that use dried fruits or spices in your repitoire.
This dried cherry scone recipe is a hit at the Scranton Seahorse Inn.   The tart cherries coupled with the sweet and slightly spicy taste of the curry (yes, curry!) usually catches my guests by surprise, in a good way.   I hope you try this recipe.  If you do, let me know what you think and what your friends think when they try it.
Ingredients:
4 cups
Cake Flour
1/3 cup

1 T

2 T

1 t

pinch

¾ cup

2

1 ½ cups

1 ½ sticks

Granulated Sugar

Baking power

Curry Power

Baking soda

Kosher Salt

Dried Cherries (dried cranberries can be used here too)

Eggs

Heavy Cream

Unsalted Butter cut into small cubes
Directions:
Preheat oven to 375
Cut butter into small cubes and place in freezer while preparing other ingredients
Sift all dry ingredients together into your food processor and pulse ½ times to combine.   Sprinkle chilled butter into food processor and pulse until the butter is the consistency of small peas or coarse sand. Take care to not over process.   Turn flour / butter mixture into a large bowl.   Add cherries and stir to mix.
In a small bowl whisk together 1 of the eggs and cream.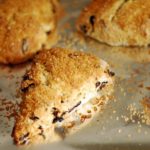 Add the wet mixture into the bowl with the dry ingredients and using a large rubber spatula gently fold until completely incorporated taking care to not over mix.   With floured hands give the mixture a few turns. The mixture will be dry but make sure all the flour is incorporated into the scone dough before turning out onto a light floured counter or large cutting board.
Divide the scone dough into two equal parts.   Shape both pieces into into 6"discs. They should be about ¾ – 1" high. Cut each disc into 6 wedges by first cutting in half then cutting each half into 3 equal wedges.
Place the wedges on a sheet pan lined with parchment or a silpat. Whisk and egg with a splash of water and brush the tops of each. If you like a little more sweetness and crunch sprinkle turbinado sugar onto the tops.
Bake on the center rack for about 20 minutes until gold brown and delicious.