Hazelnut Scones
with toasted oats and dried cherries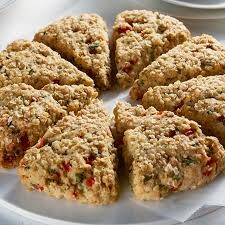 I love making this recipe and the hazelnuts are the star.  The aroma of the oats and hazelnuts while they're roasting is a sign of delicious things to come.  Because of the oats I use less flour and the end result are crunchy flaky scones.  If you don't have dried cherries you can use dried cranberries in their place.  But if you can get your hands on them it's worth it.  Because the oats absorb some of the liquid I use 1/2 & 1/2 (versus heavy cream).
1   1/4 cups Quaker oats
1/2 cup coarsely chopped hazelnuts
1/2 cup half & half
1 large egg
1  1/2 cups unbleached all-purpose flour
1/3 granulated sugar
2 teaspoons baking powder
1/2 teaspoon table salt
10 tablespoons cold unsalted butter cut into 1/2″ cubes
1/2 cup coarsely chopped dried tart cherries
Preheat oven to 375 degrees
Using two sheet pans, spread oats on one and the chopped hazelnuts on the other and toast until lightly browned and fragrant.    The nuts should take about 7 minutes and the oats about 5 minutes longer.  Keep an eye on them and be sure not to burn the hazelnuts.   Remove from oven and cool.
Raise temperature of your oven to 425 degrees.
Whisk together cream and egg.  Reserving 2 tablespoons for glazing the scones.
In a food processor combine 3/4 cup of oats, the flour, sugar and baking powder and pulse a few times to combine.  Scatter in the cold butter and pulse until the mixture is the consistency of a coarse cornmeal.   Transfer this mixture to a good size mixing bowl.    Using a large rubber spatula fold in the remaining oats and nuts.  Add the cherries.
Fold in the liquid ingredients until large clumps form.   Using your hand mix the dough a few more times until a large ball is formed.
Dust your work surface with a little flour and then gently pat the mixture until a 7″ circle until it's about 1″ thick.  Using a sharp knife cut into 8 wedges.  Line a sheet pan with parchment and place wedge 2″ apart.  Brush each wedge with the reserved liquid and sprinkle with a little turbinado sugar.    Place sheet pan with scones in freezer for about 10 minutes.
Bake until golden brown and delicious – about 12 – 14 minutes.  Let them cool for about 20 minutes before serving.
This recipe doubles easily.  Uncooked wedges can be wrapped and frozen for 2 weeks.   If you plan to freeze the uncooked wedges don't glaze or sugar them until your ready to cook (you can use 1/2 & 1/2)   Cook them frozen and increase the cooking time by a 5 minutes.