Cherry Scones
with a very special secret ingredient…..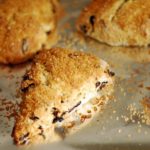 Here's another scone recipe that is a favorite among our guests at the Scranton Seahorse Inn.   This recipe comes together very quickly because I add the dry ingredients and the butter in food processor to create the scone dough.   This is also one of the few scone recipes that I use cake flour versus all purpose flour which makes for a lighter and less dense scone.
The secret ingredient is curry.  Curry is a sweet spice but it does introduce a slight kick.  The cherries and the sugar tone down the very subtle curry flavor so there's a terrific sweet and savory balance.    I don't usually tell my guests about the secret ingredient until they've tried them.   I worry that the picky eaters might turn them down before trying them.  I'd guess that 95-99% of my guests that have tried them have enjoyed them.  It's ok to reduce the amount of curry to 1T the first time you make them but I'm confident the second time around you'll increase it.
4 cups cake flour
1/3 cup granulate sugar
1 T Baking powder
2 T Curry Powder
1 t Baking Soda
pinch kosher salt
3/4 cup dried cherries (or cranberries)
2 eggs
1.5 cups heavy cream
12 T  cold unsalted butter cut into small cubes
Preheat Oven to 375
Add all the dry ingredients together and place into the work bowl of your food processor and pulse a couple times to combine.
Sprinkle chilled butter into food processor and pulse until it's the consistency of small peas or coarse sand. Take care to not over process.   Turn flour / butter mixture into a large bowl.   Add cherries and stir to mix.
In a small bowl whisk together 1 of the eggs and cream.
Add the wet mixture into the bowl with the dry ingredients and using a large rubber spatula gently fold until completely incorporated taking care to not over mix.   With lightly floured hands knead the dough making sure all the flour is incorporated before turning out onto a light floured counter or large cutting board.
Using a sharp knife divide the scone dough into two equal parts.   Shape both pieces into into 6"discs. They should be about ¾ – 1" high. Cut each disc into 6 wedges by first cutting in half then cutting each half into 3 equal wedges.
Place the wedges on a sheet pan lined with parchment or a silpat. Whisk the remaining egg with a splash of water and brush the tops of each.  Sprinkle turbinado sugar onto the tops.
Bake on the center rack for about 20 minutes until gold brown and delicious.
Cool on a wire rack before serving
.