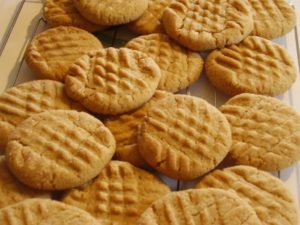 I TRY to keep our cookie jar full and I have a few go to recipes that I use to make sure our guests with cookie cravings in the middle of the night have somewhere to go.   When I know I have a gluten free guest checking in to the Scranton Seahorse Inn my peanut butter cookie recipe the one I use.   It is so ridiculously simple but so nutty and delicious.   They are so satisfying at midnight with a cup of coffee or tea too.
This recipe makes 24 cookies.  It's 1 of everything so it's quite easy to double, triple or quadruple.   Do what you gotta do!
Ingredients
1

cup good quality creamy peanut butter.  

1

cup granulated sugar 

1

large egg beaten

1

teaspoon baking soda
Seasalt (optional)
Preheat oven to 350* and grease cookie sheets or line with parchment or silpat.
Beat together peanut butter and sugar in a large bowl with an electric mixer until smooth.
Add beaten egg and baking soda to peanut butter mixture and beat until well combined.
Roll 1 teaspoon of dough into a ball and place on cookie sheet.
Place dough balls one inch apart on cookie sheet.   Do the thing we all do with a fork to our peanut butter cookies.
Sprinkle each with a little seasalt.
Bake until puffed and a golden pale, about 10 minutes.
Cool cookies on baking sheet about 2 minutes and then transfer with spatula to rack to cool.
May be kept in air tight container at room temperature for 5 days.  If you have a wall safe – store them there.
Makes about 2 dozen cookies.