TGIF!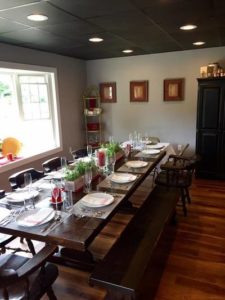 We have a great Friday night package for you.   So if you haven't made plans make them now.     For $225 enjoy an overnight stay with us at the Scranton Seahorse Inn and a 4 course meal at Chef Paul Barron's The Table.
This weeks menu includes scallops and beef tenderloin with other delicious flavors of spring like only Chef Paul can prepare.  The best part about your dining experience at The Tale is you get to watch it all happen in his open kitchen.    Dinner is at 5:30 or 8:00pm.   BYOB.
Menu for Friday April 20th.
​Asparagus
champagne sabayon
 
Seared Scallops
celeriac –  green apple – avocado
 
Roasted Beef Tenderloin
watercress – creamer potatoes
 
Caramelized Banana Ricotta Tart
Call us at 203.245.0550 to book your TGIF package today.