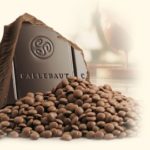 There's never any need to wait for a holiday to enjoy this chocolate feast.    It's a great treat to enjoy with friends while you linger at the table after dinner.   And, while they are pretty, a fondue pot is not necessary.   Make your fondue on the stove and when you are ready to serve pour it into a pretty bowl.   When (if!) the chocolate gets too cool just reheat it.  I've even used a microwave to reheat.
Choosing your dippers is the fun part.   Use fresh fruits like bananas and strawberries, dried fruits like apricot and chunks of mango, lemony pound cake cut into cubes, marshmallows, and my favorite rice krispie treats.   When arranged nicely on a platter and presented to family or guests you'll instantly turn into a superhero.  Provide plenty of wooden skewers so everyone can dip and dip and dip.
6 ounces

semisweet or bittersweet chocolate.  I use Callebaut bittersweet which is available in the specialty food aisle of most supermarkets.

3/4 cup half & half

2 tablespoons light brown sugar, optional

3 tablespoons  butter, cut into small pieces

1 teaspoon vanilla 

extract (optional)

1 tablespoon of your favorite 

liqueur (such as Frangelico, Grand Marnier, Kahlua, Tia Maria, Amaretto, or a brandy) (optional)
Place the chopped chocolate in a medium sized heatproof bowl and set aside.
Combine the  1/2 & 1/2, sugar, and butter in a saucepan and place over medium heat. Bring just to a simmer, stirring often. 
Remove from heat and pour immediately over the chocolate.  Let stand until the chocolate has melted, then stir gently until smooth.  Whisk in vanilla extract and the liqueur until smooth and shiny.
Place the chocolate sauce in a fondue pot over a low flame or bowl and serve with your dippers.
Makes about 1 1/2 cups (360 ml).Preparation time15 minutes.