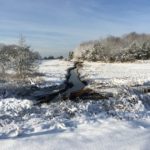 We've already had our fair share of snow here on the east coast.    Fortunately for us that also brings with it a unique beauty for all to appreciate.   The photo here is one I took as the dogs and I were out walking early one morning through Hammonassett State Park.
Looking for a last minute getaway this weekend?  All of our remaining rooms for this weekend are discounted to just $110 per night.   The Scranton Seahorse Inn is conveniently located in the center of Madison on the Connecticut shoreline which makes it a great place to sneak away to for a night or two.      So, whether you're in need of a place where you can put your feet up and relax in front of a fire, or a quiet retreat where you and your best friend can play a game, build a puzzle, or hide in your room with a bottle of wine and a movie, or if you're looking to do some coastal exploring, we are here to help and have everything you need.
Call us today at 203.245.0550 to book your getaway at the Scranton Seahorse Inn.  A full breakfast is always is included.