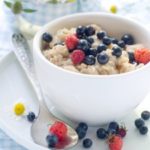 I think quinoa should get the most versatile food award for 2014.   I giggle to myself as I read other foodie blogs when they have discovered how great quinoa is in sweet recipes because I'm on the other end of the spectrum as I begin to discover great new ways to use quinoa in savory recipes.   I've been using quinoa in my signature granola, cookies,  and pancake recipes for quite some time.    And this time of year my quinoa breakfast porridge is very popular.   It's healthy, it's gluten free and it's vegan so what's not to love?    If you haven't found a place for quinoa in your diet yet this porridge recipe is an easy and delicious way to start
 For each serving:
1/2 cup quinoa, rinsed
1 1/2 cup almond milk (see my recipe for easy homemade almond milk)
1/4 teaspoon vanilla extract
1 dash cinnamon (or cardamon)
1/4 cup fresh seasonal fruit like chopped apples, pears or your favorite berry.  Raisins work too!
1 handful of your favorite nut –  almonds, peacans, or walnuts – toasted and coarsley chopped
Bring the quinoa, almond milk, vanilla, cinnamon to a boil, reduce the heat and simmer, covered until tender, about 15 minutes.
Mix in the fruit and top with toasted nuts.