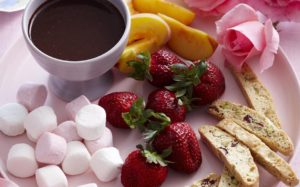 We want to spoil you rotten over Valentine's weekend.    Every guest will have a bottle of chilled sparkling wine waiting for them upon arrival.
On Saturday, enjoy a buffet filled with chocolate delights like bittersweet chocolate fondue with fruits and cakes for dipping, chocolate truffles and caramels, heart shaped fudge brownies, house made chocolate bark and more.  We'll have this in the early afternoon so we don't completely ruin your dinner.
There is a two night minimum on Valentine's weekend but whether you stay Friday & Saturday or Saturday & Sunday your Saturday night is just $99.
You can book online at scrantonseahorseinn.com or call us at 203.245.0550.