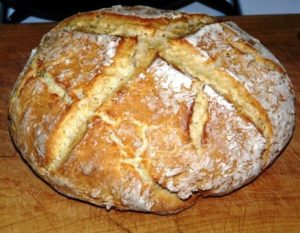 Tis the season!  For Irish Soda Bread that is.    Not sure why I don't make this more than I do.   Everyone seems to gobble it up when withI make it.   Maybe too much of a good thing comes into play.  Below is the recipe I've adapted from others I've experimented .   There's no yeast in this bread so it's quick to make.   It's the bread flour in this recipe  that makes it cripy chewy so definitely splurge and use it in this recipe.
10 ounces White Whole Wheat Flour
5 1/4 ounces Unbleached Bread Flour
1 1/4 ounces granulated sugar
1 teaspoon baking soda
3/4 teaspoon kosher salt
3 ounces currants or raisins
1/2 stick very cold butter, cut into 8 pieces
1 1/3 cups buttermilk
1 large egg
In a medium-sized mixing bowl, whisk together the flours, sugar, baking soda, salt, and currants or raisins. Using pastry fork cut in the butter until it's evenly distributed and no large chunks remain.
In a separate bowl whisk together the buttermilk and egg. Pour this mixture into the dry ingredients and mix to combine. The dough will be stiff; if it's too crumbly to squeeze together, add another tablespoon or two of buttermilk.
Knead the dough a couple of times to make sure it's holding together, then shape it into a ball. Flatten the ball slightly, and place the loaf in a lightly greased 8- or 9-inch round cake pan.  Remember there is no yeast in bread so it won't spread much, so the pan doesn't have to be large. Use a sharp knife to cut a 1/2-inch deep cross, extending all the way to the edges, atop the loaf.
Bake the bread in a preheated 400°F oven for 45 to 55 minutes, until it's golden brown and a cake tester inserted into the center comes out clean. Remove the bread from the oven, and brush the top with melted butter.