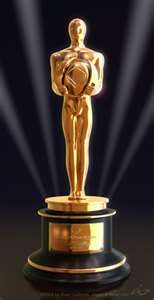 It's Oscar season which means it's time for our annual PICK THE OSCAR WINNERS contest.   In the past we have given away a DVD of the Best Picture winner from the the prior year.   This year I've upped the jackpot to not only include the DVD (Argo won best picture last year) but also a gift certificate for a free night at The Scranton Seahorse Inn.   All you need to do is click the link below which will take you to the contest I've created on Survey Monkey.   There are 8 categories you need to select winners for (1 selection for each question is required).   Fill out your name and email address and your done.  I will only reach out to you via the email address you provide if you are the winner.     In the event of a tie we will randomly select a single name to be the winner.
If you've stayed here before you know we love movies and you already know about our DVD library.   Guests have called our collection everything from "great" & "eclectic", "crazy"  & "awesome".   This is the time of year we add to that collection so return guests should be sure to take another look on your next visit.      If you haven't stayed here yet we hope you do soon and when you do be sure to grab a few DVDs from our library (this is also where you'll find the free homemade cookies) and watch some good movies.
NOTE:  I added the question "What's your favorite movie of all time?" to the end of the survey.  I'm curious to see how everyone responds and I'll be sure to share the results.   If we don't already own the title that gets the most results I'll be sure to get it.    By the way my favorite movie, To Kill A Mockingbird, is already in our library.    Good luck everyone!