Eliminating single use plastic is a worldwide initiative that gets a tremendous amount of press.  Educating yourself and then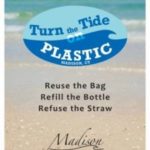 taking small steps to improve your own footprint isn't difficult to do.
To help educate and to encourage there has been an active town wide program here in Madison for a few months that has been adopted quickly and effectively.   Our "Turning The Tide on Plastic" is not mandated but has seen a lot of success.  Chamber of Commerce executive director Eileen Banisch stated "we want people to want to do this, not have to do this".  Many of our local businesses have taken steps to immediately eliminate plastic products from their offering.   For example, don't be surprised if the straw in your water is a paper straw and don't be offended if you're encouraged stop using single use bags from the grocery store.
Because of our proximity on Long Island Sound we have a very keen interest on the amount of pollution that we can easily eliminate.  I'm very lucky in life that I get to walk the beach every day all year round.   I long for the day that I don't have to pick up garbage while I'm walking.
Here at the Scranton Seahorse Inn we are taking steps to help too.
We have a 5-gallon bottle of water dispenser that we encourage guests to use to refill their reusable water bottles
Our soap is hand made locally and wrapped in recycled paper
Beginning this summer our toiletries and amenities will be packaged in recycled and recyclable material.
I'd love to hear what you're doing as an individual, family or town to help Turn The Tide on Plastic.
We look forward to seeing you at The Scranton Seahorse Inn soon.