Philadelphia is just 4 hours from Madison, Connecticut and should definitely be on your itinerary if you're touring the east coast.  Our guest writer Dylan has included this highlights of this great city in his 3rd and final piece on cities to visit when traveling in this area.   A 4 hour drive makes Philly too long to make it a day trip but using Madison and the Scranton Seahorse Inn as your home base is easy.  We always offer to let you check out for a day or two and store your luggage with us.  Coming back to relax on our beach and  reminisce is a good way to round out your trip.  
Part 3 of 3
Philadelphia, PA
The Southern-most city on our quick road trip guide, Philadelphia also has plenty of things to see and do. Known as the "Home of Rocky Marciano" and "Where the Signing of the Declaration of Independence took place", this is one city that you do not want to miss if you have four hours to spare from Madison.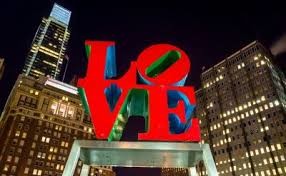 One of the aspects that Philadelphia is known for is its influence in the arts. Therefore, you must come explore the Philadelphia Museum of Art, where you will find everything from sculptures, portraits, and landscape paintings. However, before you come explore this amazing museum, do not forget to take a selfie in front of the Rocky sculpture. The sculpture is located at the bottom of the stairs to the art museum.
Similar to Boston and New York, Philadelphia has its own historical influence too. One of the must sees in the city is to visit Independence Hall. It is important to note that entrance to the hall is by ticket only. It is important to get your tickets early.
You may be hungry after all that walking around in the city. You also may hear to either go to Pat's or Geno's Steaks. However, if you want to go where the locals go, then head on over to Jim's Steaks. This family-owned restaurant has been a local favorite since 1939 when it first opened its first location in West Philadelphia.
Philadelphia is also home to some of the top schools in the country. Some of the universities in the area are Pennsylvania, Drexel, and Temple , which are all near to each other.
Like Boston and New York, Philadelphia also has their sports crowd too. The city is home to the Eagles(football), Flyers(Hockey), 76ers(basketball), and Phillies(baseball).
Given the central location of Madison, Connecticut, it is fairly easy to take a quick car ride to Boston, New York, or Philadelphia. Each city has its own flavor and its own activities to see and do. Go out and explore. Have fun.
Don't forget to read the first 2 parts of this series – Boston & New York City.