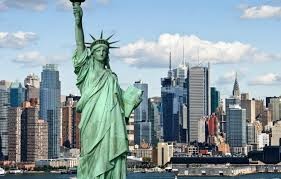 New York City is easy to get to from Madison, Connecticut.   Driving straight down route 95 will get you there in less than 2 hours.  Even better you can take the train directly from Madison (a 10 minute walk from the Scranton Seahorse Inn) to Grand Central after changing trains in New Haven.   If you use Madison as your home base Manhattan is a worthwhile day trip.   We also offer to store the bulk of your luggage if you want to check out with an overnight bag and visit Manhattan but don't want to haul your suit cases.  Read about some of the highlights of this great city as described by our friend Dylan.  
Part 2 of 3  
New York, NY
Known as "The city that never sleeps", New York is a quick 2.5 hours south of Madison. Although there are many things to do and see in the city, such as seeing a musical on Broadway or ice skating in Rockefeller Center, there are other activities that you are able to experience in New York. One of my favorite free activities in the city is to walk the Highline. The best part of the Highline is that you get spectacular views of New York City.
In addition, the Highline also hosts various events and contains diverse styles of art. Check out the calendar to see if there is an upcoming event that might interest you. Another place to visit in the city is the New York Transit Museum. At this site, you will learn about the history and the evolution of mass transportation in New York. One exhibit that is showcased at the museum is the "Fare Collection", which highlights the history of how commuters have maneuvered and paid for the subway.
Similar to Boston, New York is also home to some top-notch universities. Check out New York University located off the 8th Street-NYU subway stop. If you are looking for a more traditional college campus, then come check out Columbia University, which is located off of the 1 train on 116th street.
New York is also home to some equally sports-enthused people. It is home to the Knicks(basketball), Rangers and Islanders(Hockey), Yankees and Mets(Baseball), and the Giants and Jets(Football).