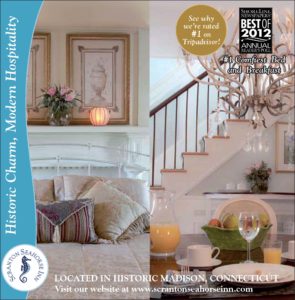 Sunday is the last day of Madison's annual sidewalk sales and we just increased your opportunity to save even more money.   Stay at the Scranton Seahorse Inn Sunday July 27th while you shop and we'll take 10% off your bill for $100 you spend (up to 30%).
Here's our suggested itinerary for a perfect Sunday:
Check in early
Shop the day away at the great shops and boutiques in Madison
Relax at the Scranton Seahorse Inn during our complimentary wine and cheese hour
Grab one of our lawn chairs and head to the Madison Town Green to enjoy Sunday's free concert  with the Larry Steven's Band
dinner at Bar Bouchee.
Who's better than you!?     Call 203.245.0550 to book your room today.   See you at the inn!