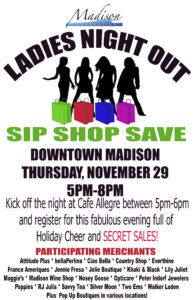 As if you needed another great reason to come to Madison!   Enjoy the comany of good friends, good wine and good bargains!   Click the picture to the left for details.
Be sure to stop in here at the Scranton Seahorse Inn for some spiked mulled cider and to purchase your gift certificates at 25% off .
There will a pop up boutique in the great room of the Scranton Seahorse inn featuring hand made soaps, bath salts and custom gift baskets from In O'Scents of Madison. 
Stay the night (or two!)  in one of our beautiful guest rooms after a fun night for just $99.