When I was in pastry school one of the chef instuctors shared this recipe with our class.  I've carried this fairly simple recipe with me for many years and it's always a hit.  When  I make it  at the inn I always get asked for the recipe.    Use your favorite tart, fresh and locally grown apples for the best results. 
2 sticks of butter at room temperature
2 cups sugar
4 eggs
1 T Vanilla Extract
4 1/2 cups all purpose flour
2 t baking powder
1 t baking soda
2 cups sour cream
5 peeled and diced apples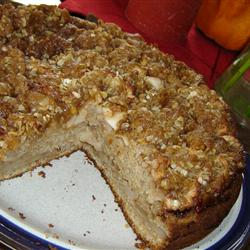 In a stand mixer with the paddle attachment cream butter and sugar on medium – high speed until light and fluffy.   Add eggs one at a time  – completely incorporating and scraping down the bowl and paddle with a rubber spatula after each addition.  Don't skip this step!    Add vanilla.
Combine all dry ingredients and whisk to incorporate.    Set the mixer to low and slowly add to butter and egg mixture until just combined. 
Add sour cream and mix until smooth.    Add apples until thoroughly mixed.  Pour mixture in even amounts into three 8″ spring form pans that have been sprayed and lined with parchment paper.   I suggest a struesal topping and you can use your own favorite recipe or here's my easy nut free topping:
1 cup unbleached all-purpose flour
1 cup packed light brown sugar
4 tablespoons granulated sugar
1/2 teaspoon ground cinnamon
pinch table salt
1 stick unsalted butter  cut into pieces, softened but still cool
In standing mixer fitted with flat beater, combine flour, sugars, cinnamon, and salt on low speed until well combined and no large brown sugar lumps remain, about 45 seconds. Add butter and mix on low until mixture resembles wet sand and no large butter pieces remain, about 2 1/2 minutes.    Spread evenly over each pan of batter. 
Bake at 350F until golden brown and a test inserted into each pan comes out cleanly.    About 1hr 10 minutes.