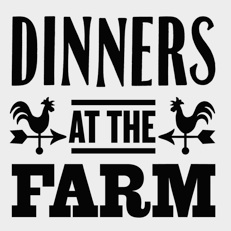 What happens when great personalities come up with an idea to generate awareness of the importance and vitality of our local farming community?  Things like Dinners at the Farm happen.    And they're happening right here on the Connecticut shoreline at Madison's Barberry Farm and East Lyme's White Gate Farm.
Beginning this weekend and continuing for several weeks you have the opportunity to eat delicous food prepared by some of the best chefs in CT and at the same time reconnect farming, cooking, and eating.  Each event includes a tour of the farm followed by a 6 course menu including paired wines.    And that's not all.    Dinners at the Farm also strengthens our community by helping to raise funds for local agricultural and humanitarian non-profit organizations.
There are still limited tickets available so check out the schedule and tickets page today.  
Barberry Farms is just 2 minutes and White Gate Farm is just 30 minutes from our door.   Make your farm dinner an overnight stay and enjoy a continuation of great local food during breakfast at the Scranton Seahorse Inn.
It's great to be in good company.