Support Your Local Small Businesses On Saturday November 30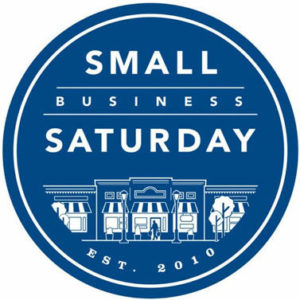 The Scranton Seahorse Inn and all the shops in the town of Madison, Connecticut are hoping to see you on Small Business Saturday.    Come to our town and find the best of local merchants that are offering specials and superior customer service.   Why is shopping small so important not only on this day, but everyday:
"Small business is the backbone of local economies.   In fact, one study found that for every $100 spent at a local business, $68 of it stays within the local economy — compared to just $43 for large businesses.
But, more than that, small businesses create an atmosphere — the vibrant, unique elements of a community. They give community members a point of local connection and common experience. In this way, they collectively become woven into the fabric of a community's image…."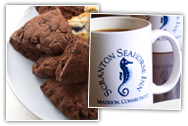 The Scranton Seahorse Inn annual gift certificate sale begins on Saturday and continues until 12/24/19.    For every $250 we will include an additional $25 gift certificate that can be redeemed at the same time or at a later date.   And,  On Small Business Saturday we will include a bonus of 2 ceramic Seahorse Inn Mugs  that you can  include with your gift (or keep for yourself!)
.Stop in to the inn at 818 Boston Post Road in Madison on Saturday November 30th to purchase your gift certificates.   We'll also be serving complimentary spiked & mulled cider from noon until 4pm.
If you can't make it to the inn on Saturday and want to take advantage of our 1 day only free mugs offer we will be taking phone orders at 203.245.0550 from 12pm – 4pm.
See you Saturday while you support your local!!