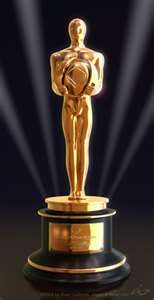 Congratulations Lisa for predicting 8 out of 8 winners in our Oscars contest.   15 of you answered with 100% accuracy and resulted in the random drawing from which Lisa's name was selected.  We also had 4 participants whose predications were all wrong which has me thinking that next year there needs to be a prize for that too!.    Lisa will be receiving her gift certificate for a One Night Getaway  at the Scranton Seahorse Inn plus a copy of the Argo DVD which was last years best picture winner.
The last question I asked was for you to write in your favorite movie of all time which I know is hard to do.  The wide range of answers proves that entertainment is subjective and that everyone finds something to love in almost every story told through cinema.    Here's a sample of the answers:   Camelot, Wizard of Oz, To Kill a Mockingbird, Finding Nemo, Monsters, Inc.,  The Godfather, Rocky I and Rocky V, Groundhog Day, & Europa Europa.      The movie listed as a favorite most frequently was Shawshank Redemption.   I love that movie too and is in fact already part of our DVD library.   I loved all the answers and will save the list and use it when I am adding to the  Scranton Seahorse Inn collection.
Next time you're staying at our bed and breakfast be sure to look through our DVD collection and take your favorite(s) back to your guest room and relax with a good movie.
Thank you again everyone and once again congratulations to Lisa!   See you at the inn!