It's time for our annual Oscar Contest!    We love the movies so Oscar time is always fun around here.   If you like movies (or even if you don't!) you can participate in our contest to be eligible to win a FREE night at the inn and a DVD of Beginners, one of our favorite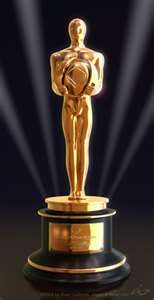 movies from this past year,  and Oscar nominated for Best Supporting Actor.   It was a great year for movies and we have recently added many of the Oscar nominated films to our DVD library.    So if you have yet to see The Help, Moneyball, Bridesmaids, The Warrior, Beginners, Margin Call, The Ides of March, Midnight in Paris, The Tree of Life, A Better Life, and Harry Potter and the Deathly Hallows Part 2 now is the time to stay a night or two at the Scranton Seahorse Inn to watch a few.   The contest is easy, just follow the link below and enter your name then answer the 10 multiple choice questions about this years Oscar nominees.
Sorry….the contest is closed….Good Luck!
Speaking of the Oscars.   There are two great events happening on the shoreline on Sunday night that include live telecasts of the ceremony.    The Oscars in Madison  is happening just steps from our door and includes a gourmet meal, champagne and cocktails, an exclusive fashion show and the telecast of the Oscars on the big screen at The Madison Art Cinemas.  
At the amazing Katherine Hepburn Cultural Arts Center Hollywood comes to Old Saybrook! Experience the Oscars live on the big screen in HD. Dedicated to Oscar-winning actor and Connecticut resident Art Carney. Walk the red carpet, enjoy hors d'oeuvre and cash bar, and participate in the Silent Auction and raffle. All proceeds to benefit The Kate.
So whether you want to go out and celebrate the Oscars in high fashion or stay in with a bottle of wine in one of our comfy cozy guest rooms we're ready for you.   All rooms on Sunday are offered at a 20% discount.   Call us today at 203.245.0550 and reserve your favorite room. 
Dont forget to enter the contest!!!   Winner will be announced on Monday morning.