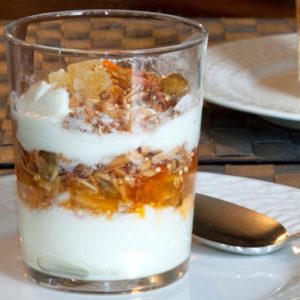 Prep Time 30 minutes
Ingredients:
3 cup Quaker Rolled Oats
1 cup Any combination of your favorite nuts (we love pecans and almonds)
1/2 cup Shredded Unsweetend Coconut
1 1/2 tablespoons Cinnamon
1 teaspoon Freshly Grated Nutmeg
1 teaspoon kosher salt
3/4 cup Local Maple Syrup
1/2 cup Local Honey
1/2 cup Quinoa (save time and buy prewashed)
1/2 cup Golden Raisins
1 cup Your favorite dried fruit(s)
2 tablespoons Unsalted butter
1 tablespoon Pure Vanilla Extract
Steps:
1. Preheat oven to 350F. In a large bowl mix together oats, coconut, nuts, quinoa, and spices
2. Combine syrup, honey, vanilla and butter in a microwave safe bowl and heat until butter is melted. NOTE: You can vary the ratio of honey and syrup you use based on taste preference. Just be sure you have 1.5 cups of sweetener.
3. Stir together the warmed syrup mixture and add to the oat & nut mixture. Stir until well coated.
4. Spread mixture on a rimmed baking sheet covered with a silpat. If you don't have a silpat coat the baking sheet with cooking spray. Set oven timer to 7 minutes. Every 7 minutes for approximately 30 minutes remove the pan and stir. We want the mixture to be evenly cooked to a dark golden brown.
5. Once cooled combine the dried fruit to the oats. The granola can be kept refrigerated in an air tight container for up to 3 weeks. Enjoy with milk, soy milk, or plain yogurt.