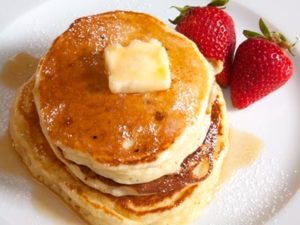 Prep Time 30 minutes
Serves: 6
Ingredients:
2 cups All Purpose Flour
1 tablespoons Granulated Sugar
1 teaspoon Baking Powder
1/2 teaspoon Baking Soda
1/2 teaspoon Table Salt
1/8 teaspoon Cardamon (optional)
2 cups Buttermilk
2 Large Eggs
3 tablespoons Unsalted Butter
1/4 cup Sour Cream
Steps:
1. Whisk together all dry ingredients in a large bowl and set aside. I use cardamom and cinnamon interchangeably with this recipe. Sometimes I use both! They both pack a lot of flavor so just a pinch will do.
2. Melt Butter and cool slightly
3. Whisk buttermilk into cooled butter and then whisk in the eggs and sour cream.
4. Make a well in the dry ingredients and add the wet ingredients. Use a large rubber spatula and fold together until just combined. Use a minimal amount of strokes – some lumps might remain. Let stand for at least 15 minutes – this will give the sour cream and baking soda time to react.
5. Pour 1/4 cup for each pancake onto a hot oiled skillet or griddle. When bubbles start to uniformly appear it's time to flip. These pancakes will rise nicely so let them cook for at least 2 minutes on the second side. Don't forget to use quality (LOCAL if available) syrup. Enjoy.