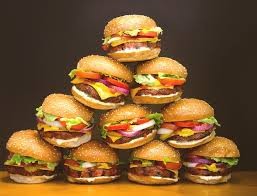 Not that we need an excuse to eat another hamburger but Thursday May 28th is National Hamburger Day so it's really an obligation for today.    Besides eating a hamburger I thought I should share with you some of our favorite places to enjoy a hamburger.     They are all a short drive from the inn so if you come spend a weekend with us you have choices.
1.  Augur's Irish Pub is our favorite hangout located near the green in Guilford.   This is truly local favorite where great people gather and great people work.   The burgers are big juicy and hand formed and cooked to perfection.   This is a no frills burger that a traditionalist will love!   It's served on a hard roll with lettuce and tomato and a side of chips.  Plenty of local brews available on tap and in bottle.   This is our favorite place to watch the Red Sox and the Patriots.    The owner is a Jets fan but we lover her none the less.
2.  If size matters you won't be disappointed with the burgers at Christy's right here near the beach in Madison.  These monsters are served with a steak knife and fries.    My favorite is the chili burger topped with homemade chili, cheddar, and onion.   I never think I'll ever be able to finish it but I always do.
3.  We love heading out to Old Saybrook and trying one of the dozens of burgers (and dogs) off the menu at The Rabbit Hole.  I don't think I've tried them all yet but I am working on it.    The beer list is absolutely endless too so be prepared to make multiple visits so you can try every burger and every beer.    There are multiple TV's  so you'll find favorite team on one of them.
4.  Moxie is a fabulous gastropub here in Madison and a short 2 minute walk from the Scranton Seahorse Inn.    The burger and fries have become a local favorite.    I can't get enough of the Cowboy Up Burger with jalepeno poppers and BBQ melted onions.   Lot's of outdoor seating with great wines and a list of ever changing craft beers.    You'll be happy you can walk there and back.
If you try out any of our favorites please let us know what you think.  Follow this link to another handy resource to great burgers and brews.
It's great to be in good company!