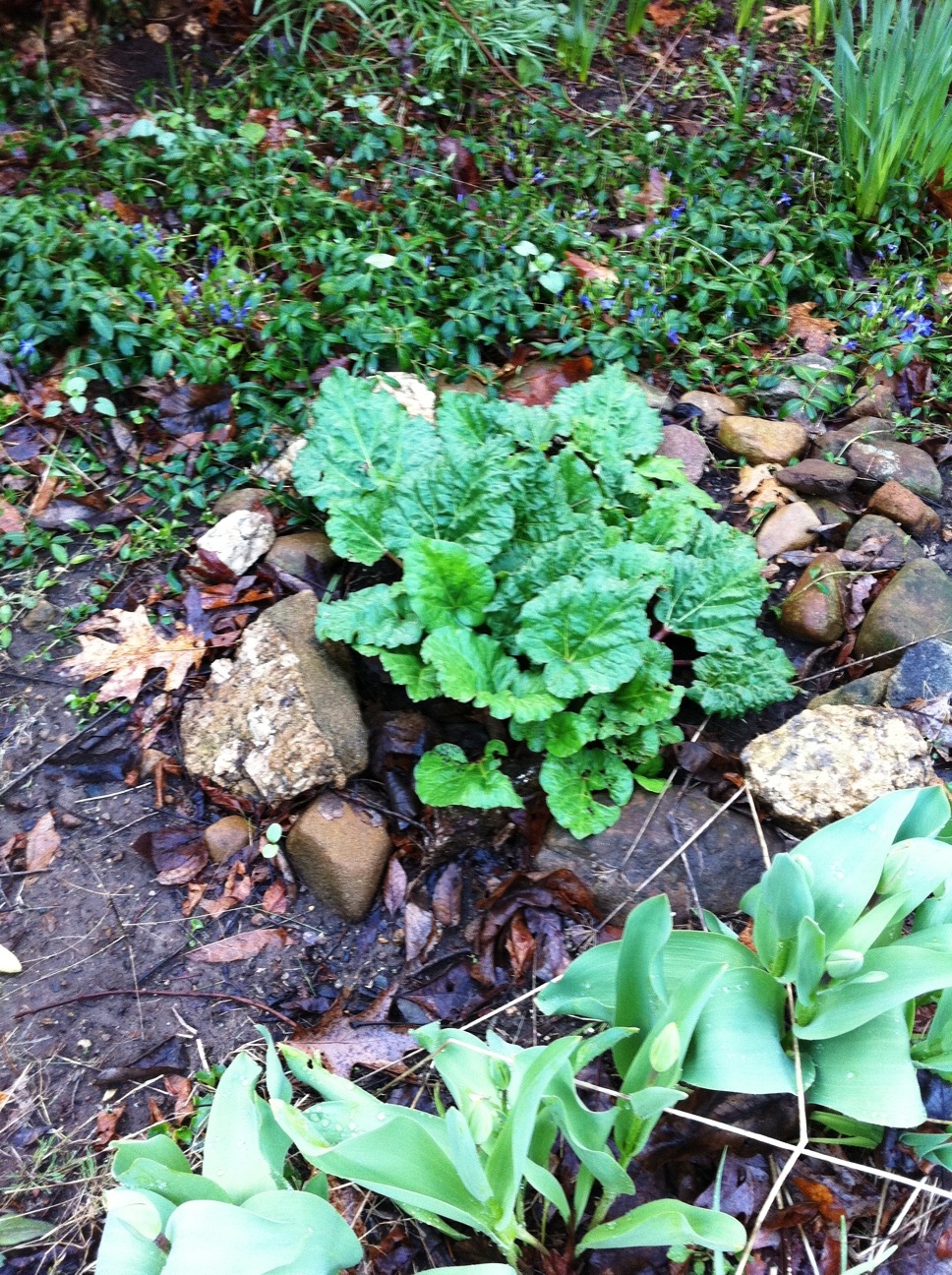 I was delighted to see how great the rhubarb in our garden was looking this morning.    When I see these big bright green leafy stalks it means two things – spring time & great tart breakfast treats.   Some of the favorites at the inn are rhubarb upside down muffins, rhubarb crisp and my personal favorite – rhubarb sour cream coffee cake.  I make this one with a combination of all purpose flour and wheat flour.  
Here's the recipe:
3 1/2 cups finely chopped rhubarb (about 1 pound)
2 tablespoons all-purpose flour
1 1/2 cups packed dark brown sugar
5 tablespoons unsalted butter at room temp
2 large eggs
1 cup sour cream
zest of one medium orange
2 teaspoons good quality vanilla extract
1 1/2 cups all-purpose flour
1 cup whole wheat flour
1 teaspoon baking soda
1 teaspoon ground cinnamon
1/2 teaspoon kosher salt
Streusel:
1/4 cup turbinado sugar
1/2 teaspoon ground cinnamon
2 tablespoons chilled unsalted butter, cut into small pieces
1/4 cup toasted & chopped walnuts
Preparation
1. Preheat oven to 375°.
2. To prepare cake, combine rhubarb and 2 tablespoons flour in a medium bowl; toss well to coat.
3. Place brown sugar and 5 tablespoons butter in the bowl of a mixer; beat at medium speed until light and fluffy. Add eggs, 1 at a time, beating well after each addition. Add sour cream, rind, and vanilla; beat until well combined.
4. Lightly spoon 1 1/2 cups all-purpose flour and whole wheat flour into dry measuring cups; level with a knife. Combine flours, baking soda, 1 teaspoon cinnamon, and salt, stirring with a whisk. Gradually add flour mixture to butter mixture, beating at low speed just until combined. Fold in rhubarb mixture. Spread batter into a 9-inch square baking pan coated with cooking spray.
5. To prepare streusel, combine turbinado sugar and 1/2 teaspoon cinnamon in a small bowl. Cut in 2 tablespoons butter with a pastry blender or 2 forks until mixture is crumbly; stir in nuts. Sprinkle streusel evenly over batter. Bake at 375° for 50 minutes or until a wooden pick inserted in the center comes out clean.