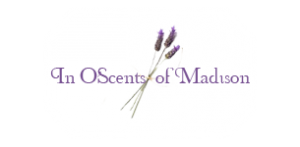 We often brag about the company we keep here at our location in Madison, Connecticut.   Being surrounded by so many great people and great businesses here on the Connecicut Shoreline make work feel like anything but work.
We are especially pleased today to go on and on about our business relationship with fellow Madison Chamber Member and good friend Dyan Salemi.  Dyan is founder and owner of In O'Scents of Madison which specializes in bath products that are handmade with the finest ingredients she can get her hands on.  From soaps and bath salts to scented sachets and custom gift baskets In O'Scents of Madison delivers products you cannot find anywhere.  Nowhere else will you find specialty products like these that include the attention and love that goes into each and every product Dyan makes right out of her own home.    Like a true Bostonian Dyan has the gift of gab and when she stops by the inn to make a special delivery for me or a guest she'll take the time to entertain us with stories of her past like her Italian grandmother's advice for spraying your pillow case with linen water scented with pure lavender or the benefits of the pure shea butter she uses in her soaps.   Her generosity to her friends, customers and our community rightly earned her the Madison Chamber's New Member of the Year award in 2012.
We are proud to say that the Scranton Seahorse Inn provides all of our guests with handmade soaps by In O'Scents of Madison and we even have our very own signature scent.   Both my new and regular guests love the seashell shaped soap so much that some are buying it from me.
Look around Dyan's website at In O'Scents of Madison and give her a call when you see something you like.   Remember, she'll customize a gift basket, a party favor and even help create your own signature scent.
Once again, it's great to be In Good Company!