Souper Sundays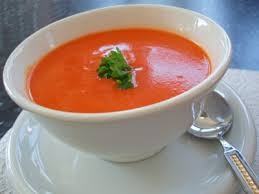 There are many things we do here on the Connecticut shoreline in order to coexist with the cold New England weather.   From skiing and skating to reading and hibernating, we each have our own ways to keep from going stir-crazy during Old Man Winter's annual visit.  One of my own favorite winter rituals is to make homemade soup.    It's healthy (well…sometimes!), satisfying and delicious, which means that in one pot I get to fulfill all of my promises to myself: live healthier, cook at home more, and eat better.
The aromas that fill the inn are second only to the reward of eating a bowl of hot homemade goodness.    I enjoy it so much that I have have started sharing my ritual with our overnight Sunday guests and am calling it Souper Sundays.   All guests that check in on Sunday are invited into the kitchen to help me prepare what will become the Sunday supper that we will share at dinner time.   It's a time to bring the ever-changing Scranton Seahorse Inn guest community together to do something fun, healthy and,  if we do it right – utterly delicious.
Book your room with us and enjoy a perfect stay at a classic Connecticut bed and breakfast that includes a cooking class and dinner with (new) friends.   Bring your own favorite wine if you wish, and we'll provide the soup, bowls, and spoons!
December 14th:   Butternut Squash with Sage and Apple  &  New England Style Clam Chowder
December 21st:   Creamy Chicken Chowder & Spicy Red Pepper Bisque
See you at the inn!