SAVE UP TO 30% OFF YOUR OVERNIGHT STAY WHEN YOU SHOP!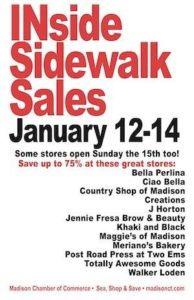 Save BIG this week at the Inside Sidewalk Sales in Madison. There's lot's of great bargains to find at our many locally owned shops and boutiques. Stroll the streets an enjoy great shopping and don't forget to enjoy dinner at one of our great restaurants in the town center. There more saving at the Scranton Seahorse Inn too. We will reimburse you 5% (up to 30%) for every $100 you spend at participating shops. We'll tally up your spending damage at check out and credit your stay.
Call today to make your reservation!
See you at the inn.