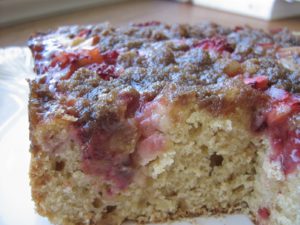 You know I love my rhubarb.  The only thing that I don't like about it is that the growing season for rhubarb in Connecticut is too short.   I take advantage of the local harvest, including from my own garden, as much as I can.   A lot of our guests here at the Scranton Seahorse Inn have asked for this recipe – even from some that didn't think they liked rhubarb.  The small chop on the rhubarb in this recipe doesn't overwhelm but provides tasty tart bites.  The combination of the wheat and all purpose flour provide a nice nutty aroma and flavor.   I hope you enjoy this Rhubarb Coffee Cake recipe.
CAKE:
 1 pound finely chopped rhubarb
2 tablespoons all-purpose flour
1 1/2 cups packed brown sugar
5 tablespoons butter, softened
1/2 teaspoon orange extract or 1 teaspoon fresh orange zest
2 teaspoons vanilla extract
1 1/2 cups all-purpose flour
1 teaspoon ground cinnamon
1/2 teaspoon ground cinnamon
2 tablespoons chilled butter, cut into small pieces
1. Preheat oven to 375°.
2. To prepare cake, combine rhubarb and 2 tablespoons flour in a medium bowl; toss well to coat.
3. Place brown sugar and 5 tablespoons butter in a large bowl; beat with a mixer at medium speed until light and fluffy. Add eggs, 1 at a time, beating well after each addition. Add sour cream, rind, and vanilla; beat until well combined.
4. Lightly spoon 1 1/2 cups all-purpose flour and whole wheat flour into dry measuring cups; level with a knife. Combine flours, baking soda, 1 teaspoon cinnamon, and salt, stirring with a whisk. Gradually add flour mixture to butter mixture, beating at low speed just until combined. Fold in rhubarb mixture. This is a thick batter.  Spread evenly into a 9-inch square baking pan coated with cooking spray.
5. To prepare streusel, combine turbinado sugar and 1/2 teaspoon cinnamon in a small bowl. Cut in 2 tablespoons butter with a pastry blender or 2 forks until mixture is crumbly; stir in nuts. Sprinkle streusel evenly over batter. Bake at 375° for 50 minutes or until a wooden pick inserted in the center comes out clean.   Invert onto a cooling rack and cool completely.   Cut into squares and enjoy.