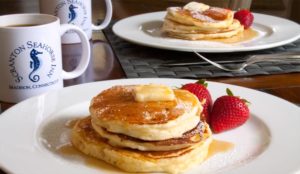 I guess there's a reason to celebrate something every day so why not pancakes too!  Throughout the year we make variations on  these crowd pleasing favorites.   In fall and winter we serve gingerbread, pumpkin or apple pancakes.   In the spring we'll change it up to lemon ricotta and sometimes in the summer we're making buttermilk and sweet corn pancakes.   But our tried and true hit are fluffy classic buttermilk pancakes topped with berries and local maple syrup.   Here's our recipe for our version.  Enjoy!   Happy Pancake Day!
Ingredients
2 cups All Purpose Flour
1 tablespoons Granulated Sugar
1 teaspoon Baking Powder
1/2 teaspoon Baking Soda
1/2 teaspoon Table Salt
2 cups Buttermilk
2 Large Eggs
3 tablespoons Unsalted Butter
1/4 cup Sour Cream
---
Whisk together all dry ingredients in a large bowl and set aside.
Melt Butter and cool slightly
Whisk buttermilk into cooled butter and then whisk in the eggs and sour cream.
Make a well in the dry ingredients and add the wet ingredients. Use a large rubber spatula and fold together until just combined. Use a minimal amount of strokes – some lumps might remain. Let stand for at least 15 minutes – this will give the sour cream and baking soda time to react.
Pour 1/4 cup for each pancake onto a hot oiled skillet or griddle. When bubbles start to uniformly appear it's time to flip. These pancakes will rise nicely so let them cook for at least 2 minutes on the second side. Don't forget to use quality (LOCAL if available) syrup. Enjoy.