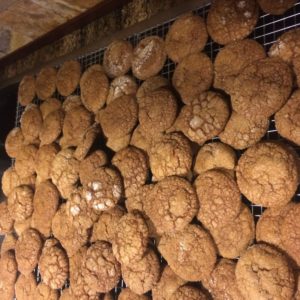 We try to keep the cookie jar in the coffee bar stocked.   There's a lot of midnight cookie monsters out there so this is a difficult task at times!   We had a group of guests from Germany recently that begged me for my molasses cookie recipe.   I wish I could say it was mine!  This was passed on to me from my friend Liza who in turn got it from Jillifer's Emporium, Great Barrington, MA.   Enjoy!
Ingredients:
1 pound butter
1/2 tablespoon salt
3 cups brown sugar
3 large eggs
3/4 cup dark molasses
1/4 cup water
6 1/2 cups unsifted flour
1 tablespoon baking soda
1 tablespoon cinnamon
2 teaspoons ground cloves
2 1/4 teaspoons ground ginger
Cream butter, molasses, water, salt and brown sugar together.
Beat in eggs
Sift dry ingredients together and then add to creamed mixture.
Mix well
Refigerate for 24 hours.
Roll into balls (1″ diameter), then roll in granulated sugar
Bake for 15 – 18 minutes at 350 degrees – adjust time for convection ovens.
Yields approximately 3 1/2 dozen