Chia Breakfast Porridge
Recipe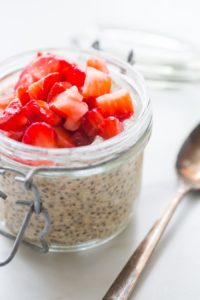 Chia seeds have amazing nutritional value and are high in antioxidants, Omega-3 and calcium.   There are a variety of seeds on the store shelves and I tend to buy the black seeds vs the white seeds.  This base recipe that follows is gluten free and dairy free and very flexible as far as what you add to the base.   I use almond milk but you can use soy, coconut, or rice milk.  I'll be honest the only milk I haven't used it whole milk (the chia has a lot of calcium already!).  I always try to use what ever fruit is in season once we hit spring time in Connecticut but you of course should use what ever flavor combination you love.
For each serving:
1/2 cup unsweetened vanilla almond milk
3 Tablespoons chia seeds
pinch of your favorite spice – cinnamon, cardamom, ginger
1 T honey or syrup (optional)
Combing all ingredients into a mason jar or other container that has a lid with a tight seal.     Shake it like mad for a few minutes.  Put in refrigerator over night.
In the morning give it a good stir and add your nuts, fruits, coconut, or what ever your imagination tells you.  Consider using maple syrup in place of honey or cardamon in place of cinnamon.   If you try this and create a combination that you love let me know and I'll try it out here.
Some popular toppings here include:   blueberry and lemon zest, mango and coconut flakes, fresh cherry and almonds.
I make about 15 – 20 servings at a time and it stores well in the refrigerator for at least a week.  Just be sure to stir it each time as the honey or syrup will settle.