We get a lot of travelers from various parts of the country as well as out of the country.   I'm often asked about good places to visit that are close to Scranton Seahorse Inn and to  Madison, Connecticut.  The good news for us in Madison is our close proximity to some of the greatest cities in the country.   We don't have to travel to far to experience great history, art, sports, culture and food.
I asked our friend Dylan Moszkowitz if he would guest write a few blog entries for us.  Over the next few days I'll share some great info he's put together on Boston, New York, and Philadelphia. 
PART 1 of 3
Located along Connecticut's Long Island Shore in New Haven County lies the quintessential New England town of Madison, CT. Previously known as a sleeper town with many family-owned shops and restaurants, the town has grown to nearly 20,000 people. Because of its centralized location, it is also quite easy to hop in your car and drive to many other nearby large northeastern cities. 
Boston, MA
Two hours north of Madison lies the city of Boston, Massachusetts. One fact that the city is known for is that it is the birthplace of the American Revolution. Therefore, there are a plentiful amount of things to do in the area. One site to visit while exploring Boston is Faneuil Hall. Built in 1742 as a gift from Boston's wealthiest merchant Peter Faneuil, this historic landmark now attracts close to 20 million people annually. The site is also home to many different shops and restaurants.
Another area of interest in Boston is the replica of the Cheers bar from the television show. If you are looking for the original Cheers bar, it is located off of Beacon Street by Boston Common near the Arlington T stop.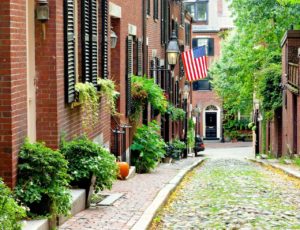 Additionally, one tradition to do in Boston is to walk the Freedom Trail. Inaugurated in 1951, this walking tour showcases visual representations of the American Revolution. On the tour, you will see various historical sites in Boston, such as the Central Burying Ground and the Massachusetts State House.
If you are more of an active person, the Freedom Trail also has a 5k running tour. One of the key differences between the running tour and the walking tour of the trail is that the running tour takes you through ALL of the 16 famous landmarks, which is about 3 miles. I did the running tour twice and highly recommend it. It was my favorite leisure activity while I lived in Boston. As a side note, do not forget to bring a jacket with you. Although it maybe warm on land, the boat ride from Charlestown back to Boston Harbor carries some strong, cold winds. I learned that the hard way.
Besides the plentiful amount of history surrounding you, the city is also considered the "central hub" of American higher education. Many colleges are located in the area, such as Boston University(Go Terriers!), Harvard University and Massachusetts Institute of Technology in cross-town city of Cambridge.
In addition, Boston is also considered a city that has some of the most sports-passionate people you will ever meet. The city is home to the Celtics(basketball), Bruins(hockey), Red Sox(baseball), and the New England Patriots(football).