Mac & Cheese Mondays
All Winter Long!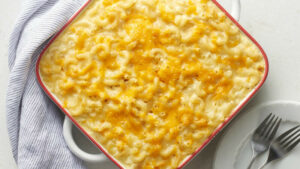 One of my favorite foods growing up was macaroni & cheese.  Now granted, my idea of GOOD macaroni and cheese has evolved from the boxed-orangey stuff,  but that's besides the point.   On cold nights in winter time there's really nothing quite like a warm dish of pasta that's baked with a good variety of cheeses.
We all have our favorite recipes don't we?   The type of pasta matters to many people.  Elbows, ziti, or bowties?  Some just want cheese and macaroni, others want bacon, pancetta, or (god forbid) broccoli included.    Even when it comes to the toppings we all have our favorites.    Are you a dried bread crumbs or panko person?    Maybe just another layer of cheese?
This winter at The Scranton Seahorse Inn we are going all over the place and trying different recipes we've tried, we've wanted to try or ones that you send us and insist we try.    We're cooking up a big dish every Monday and sharing it for dinner in our dining room with our guests.
Book your room for Monday nights, bring your favorite beverage and dinner is on us!    If you have a favorite recipe that you think I should try send it to me at info@scrantonseahorseinn.com    If you can't make it to us on a Monday night I'll be sure to give you feedback from our weekly "judges".
Give us a call at 203.245.0550 for make your room reservation and to reserve your spot at the table for some free macaroni and cheese.   Or, book online at this link.
See ou at the inn!