MENU FOR FRIDAY APRIL 21st 2017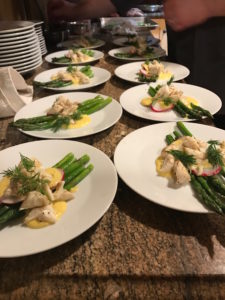 We love spring time!   Here is this Friday's night dinner menu and we hope you'll join us.   Dinner starts each week at 7:00pm and is a BYOB event.
$65 per person (no over night stay required).   OR you can chose:
The Friday Night Dinner Package priced at $250 or $300 (based on room selection).  The package includes dinner for 2, your overnight stay, a full breakfast in the morning and late checkout.
Tax & 18% Gratuity are additional and are added to the final bill.
Call Michael @ The Scranton Seahorse Inn at 203.245.0550 to reserve your seat at the table or to book The Friday Night Dinner Package.
Risotto
Mushroom & Spring Garlic
Strawberry & Arugula Salad
almonds / Aged balsamic / Goat cheese / Poppy seeds
Salmon filet
Asparagus  / New potatoes / Hollandaise
Panna Cotta
Local Honey / Rhubarb Connsomme